Nick Woodman CEO of GoPro confirms GoPro Hero5 launch by name, Omni & Karma Summer 2016 launch, new software, and more!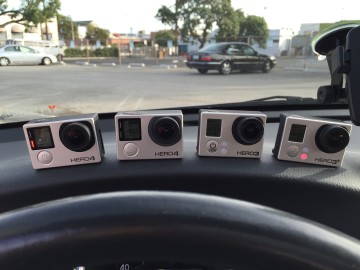 Nick Woodman CEO of GoPro had an earnings report earlier today where he went over some of the projected sales figures for 2016, recent layoffs, and upcoming discounts. The Hero, Hero+, and Hero+ LCD will all be discounted to make way for some new restructuring on how the cameras are presented to the public. Going forward it appears GoPro will be providing the public with 3 models of choice rather then the 6 currently being supplied to stores on top of previous year models. A change I've been hoping to see for sometime.
In a follow up to call Nick spoke about future products and software. He mentions the Hero5 specifically by name putting to bed the speculation if the next GoPro would be called the Hero4+ or Hero5. There were no specs or pricing related details given but I'd suspect a Sept/Oct launch window with pricing being tightly looked at this time around. Woodman went on to say the GoPro drone known as the Karma along with the consumer version of the VR rig known as Omni, would be released in summer of 2016. It was not made clear if the Google/YouTube exclusive mega VR rig would launch this summer which has a 6 months exclusive with YouTube content creators.
One of the more interesting notes was the new GoPro Editing software Nick referred to as being called "GoPro for Desktop". In the call he mentions it's been made easy for user to capture their adventures but how their footage fairly quickly piles up and it can be daunting task trying to put edits together as the clips keep piling up. the new GoPro Desktop software aims to tackle that problem by helping automate some of the editing process. He says that it'll come in waves but expects the first to hit Summer 2016. I'd imagine it'd be right along side the Omni release with software features acquired from the purchase of Kolor (Spherical Stitching Software).
You can check out the "The Verge" write up on the earnings call and with more direct quotes from Nick Woodman